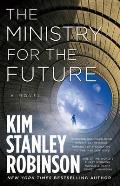 Once you get used to Kim Stanley Robinson's multithreaded neo-Tolstoyian style and push past the first chapter, this is an unforgettable book, one that paints a gloomy picture with a glimmer of light.
I have never been more proud to be the father of a budding environmental scientist, more ashamed of the wasteful aspects of my lifestyle, and more focused on what is important. That's far more than I had bargained for from this book, but it was worth the almost physical effort to get through such an unrelenting narrative and come out changed.
For is that not what great books are about?